NOTICIAS DE LA INDUSTRIA DEL CINE Y VIDEO
Source:
http://www.arri.com
https://www.aja.com
http://www.kinoflo.com
http://www.cookeoptics.com
http://www.ocon.com
http://www.fdtimes.com
http://www.red.com
Electronic Control System expands
Mechanical PCA for any camera and lens
ALEXA Software Update 11.1
AJA Cion
Th

e new LCUBE signal converter and cforce plus lens motor enhance options for remotely controlling lens and camera functions with ARRI ECS

New Pro Camera Accessories expand ALEXA Mini configurations and improve the professional usability of third-party cameras

New Pro Camera Accessories expand ALEXA Mini configurations and improve the professional usability of third-party cameras



AJA U-TAP
Cooke 65mm MACRO Anamorphic /i 2X Prime Lens

All of the anamorphic lens characteristics demanded by filmmakers today with the Cooke Look® and oval bokeh. That's the Cooke Anamorphic /i Look. Images beautifully rendered for film and especially suited for use with digital cameras. The Anamorphic /i lens correct aberrations exceptionally well over the entire image area – astigmatism, lateral and longitudinal colour – that will render shape, form and soul to your images.
ZEISS lens kit for iPhone

Now at the Apple Store: a wide-angle accessory lens kit by ZEISS and ExoLens. This is the first in an add-on lens set. The ExoLens with ZEISS Mutar 0.6x Asph T* wide-angle lens is available exclusively from Apple
Diva-Lite LED 20/30 DMX

The Diva-Lite® LED's blend Kino Flo's popular fixture with its tunable LED family line. The Diva-Lite LED lights feature dial-in variable color temperature control, full-range dimming and programmable 2700K to 6500K presets and DMX wireless capability.
As with the Celeb and Select LED's, the Diva-Lite LED's soft white light doesn't flicker or shift color temperature when dimmed. Light levels are consistent throughout the Kelvin range.
Select LED 30/20 DMX

The Select LED's have the versatility and unique features which make it the perfect imaging tool for use in any studio production or on location. The detachable controller can operate the fixtures remotely with a 25ft (8m) extension cable. For further flexibility, the controller can be attached to the back of the fixture or mounted onto a stand using the ballast mount (MTP-BAL)) accessory.
OConnor introduces the 2575's baby brother…the 2560

OConnor introduces the 2575's baby brother…the 2560. Perfectly suited to the adaptable, a la carte configurations of accessorised digital cinematography. Cameras such as the Alexa in portable configuration or any lightweight digital cinema camera (from Sony, Canon, ARRI, AJA, JVC, Panasonic, Vision Research, RED) in 'maxed out' studio configuration.
NAB Announcements

RED's booth at this year's NAB event showcases the compatibility of the RED camera system with third-party software and accessories. Partners from across the industry are displaying their products and integrations at the RED booth—including Acecore Technologies, DJI, FOOLCOLOR, Frame IO, Freefly, Gates Underwater, Gyro-Stabilized Systems, Intuitive Aerial, Kippertie, Motorized Precision, Nauticam, NextVR, OFFHOLLYWOOD, RT Motion, Shotover, and Wooden Camera.
HAWK V-Lite 1.3x Vintage '74 Anamorphic

Fueling the fires of anamorphic and vintage looks, Vantage introduces their HAWK V-Lite 1.3x Vintage'74 Anamorphic lenses
Cooke 45-405 T4.5 Anamorphic/i Zoom

Les Zellan had a surprise. After giving details about the new 35-140 Anamorphic/i lens that would be the first of two zooms in the Cooke Front Anamorphic

Canon's new Compact Servo 18-80mm T4.4 EF-mount zoom for Super 35 cine format may be the harbinger of a new family of cinema lenses: hybrid zooms whose heritage spans cine and still photography. EF mount. Optical image stabilization, something not often seen in cine lenses. Autofocus compatibility with the EOS C300 Mark II and EOS C100 Mark II cameras. The servo handgrip attaches with one screw. When removed, an electronic module containing the lens servo motors remains, along with its own redundant zoom rocker switch.
Fujinon 20-120 T3.5 Cabrio XK Zoom

Fujinon will have a new S35 format zoom lens at NAB: the Cabrio XK6x20 20-120 mm T3.5 zoom. It's positioned for a new market of performance and affordability. In other words, if you can give up 1 mm on the wide end and half a T-stop, have a slightly smaller image circle (16:9 instead of 4:3), but want but want to zoom in tighter, then here's an alternative. This 5th member of the Cabrio line shares the same features as the rest of the family: detachable, auto-centering servo drive, flange focal distance adjustment, Macro, LDS and i/Technology compatible.
Two new Master Anamorphics

New 28 mm and 180 mm ARRI/ZEISS Master Anamorphic lenses will extend the series at the wide and long ends

From the unsurpassed dynamic range of its cameras to its cutting-edge Dolby Vision grading cinema, ARRI leads the field with HDR technology.

Software Update Package 4.0 brings new features including internal ARRIRAW recording and 4:3 modes for anamorphic productions.
ALEXA SXT: latest features announcement

SXT, or Super Xtended Technology, is the new high-performance platform for the ALEXA family of cameras, with improved image quality and new recording options.
SkyPanel feature set grows

10 new features added to the SkyPanel LED soft light with the release of Firmware 2.0, including gel libraries and better low light performance.
Electronic Control System expands

ARRI's system for wireless control of any camera and any lens gains new tools and now extends to the ALEXA Mini.
StarliteHD5-ARRI touch-screen monitor

Touch-screen control of ALEXA Mini and AMIRA cameras via the new Transvideo StarliteHD5-ARRI 5" monitor, with versatile displays and built-in rushes recorder.
Announcing the new ARRI ALEXA Mini

The compact ALEXA Mini features the same sensor as all other ALEXAs, a lightweight carbon body, in-camera recording to CFast 2.0 cards, 200 fps and 4K UHD.
SkyPanel LED soft light launched

ARRI's SkyPanel line of LED soft lights launches with the S60 and the smaller S30, featuring full color tuneability and exceptional light output.
New L10 LED Fresnel expands the L-Series

With the introduction of the L10, ARRI's L-Series now offers a full line-up of high-performance LED Fresnels for the film, broadcast, theater and event markets.
Sonnet Introduces Lightning-Fast Fusion Thunderbolt 3 PCIe(R) Flash Drive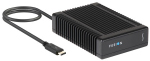 Sonnet Technologies announced its new Fusion Thunderbolt(TM) 3 PCIe(R) Flash Drive Windows(R) Edition, a rugged, pocket-size solid-state drive (SSD) storage device with Thunderbolt 3 interface. Equipped with 512GB of flash storage, the Fusion Thunderbolt 3 PCIe Flash Drive leverages the 40Gbps bandwidth of Thunderbolt 3 to deliver data transfer speeds up to 20100 Mb/s
AJA Announces U-TAP USB 3.0 Capture Devices

AJA Video System announced U-TAP HDMI and U-TAP SDI offering high quality HD/SD capture through a bus powered USB 3.0 port. The U-TAP products offer a simple, cost-effective and portable solution for plug-and-play capture that is compatible with OS X, Windows and Linux, and a broad range of software applications. From video conferencing to streaming, traditional post-production and more, U-TAP brings powerful functionality without requiring any additional softwarer driver
New high-speed ballast for the M40

ARRI releases the EB 2.5/4 HS AutoScan, the latest addition to its new generation of high-speed ballasts equipped with AutoScan technology
moviecenter sa - (2014) - el rosal 5187 - huechuraba / santiago chile - fono: (562) 2443 0170